We had a great time at the MURTEC Executive Summit in Nashville last month. We were thrilled to host the Breakthrough Awards and enjoyed connecting with industry contacts! Congratulations to the winners – McAlister's Deli (Customer Engagement Innovator) and TGI Fridays (Enterprise Innovator).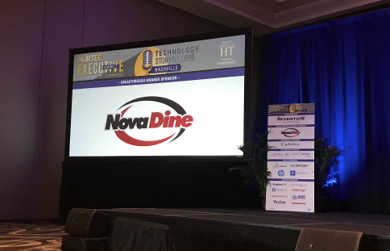 McAlister's developed an online and mobile engagement platform that allows the brand to offer a seamless mobile and online ordering experience and drive increased customer loyalty and spend through targeted CRM. TGI Fridays tapped into the potential of Artificial Intelligence (AI) to deliver measurable results in three key areas: guest engagement, internal operations and staff support.
Breakthrough Awards are presented to select restaurant companies that have demonstrated outstanding vision and achievement in operational and guest-facing technologies. Winning companies are chosen based on vision and execution; consideration is given to size, resources and individual market segment benchmarks to ensure that companies from across the industry are recognized. Nominations were collected in Q3 of 2018 and judged by the Hospitality Technology editorial staff and its advisory board based on innovation, thought leadership, execution and results.
For more information about NovaDine visit www.novadine.com.