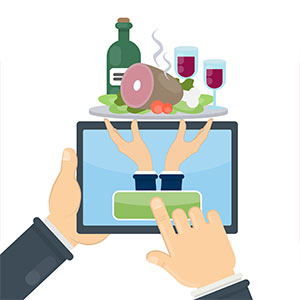 Customers in today's marketplace want mobile ordering, delivery, and convenience.
NovaDine has built-in delivery support included with Postmates, DoorDash, and UberEats.
Here is what this means for your restaurant:
Outsourcing to a third-party means exposure to an enormous new customer base
Increase your brand recognition, engagement, and orders by listing your stores on delivery marketplace websites
NovaDine's DaaS Delivery Engine automatically selects the best delivery provider based on the customer's address, and is fully integrated with our online ordering system software, and your POS
Menu and pricing updates automatically and in real-time
No need to build and maintain a delivery operation—outsourcing this burden keeps your kitchen focused, and eliminates the need for delivery drivers and insurance liabilities
As with all NovaDine features, DaaS is available for your use at no additional cost
Fact: Over half of restaurant takeout orders occur online. Third-party food delivery apps are on the rise. This means exciting new revenue growth from these services. Is your chain supported and ready to profit from these services?
Let us empower you with technology! Contact us to request a demo today.