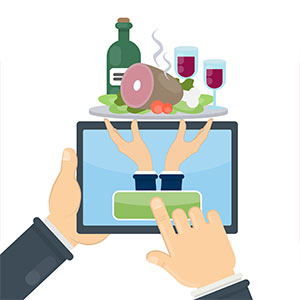 NovaDine has built-in delivery support included with Postmates, DoorDash, and UberEats.
Here is what this means for your restaurant:
Outsourcing to a third-party means exposure to an enormous new customer base
Increase your brand recognition, engagement, and orders by listing your stores on delivery marketplace websites.
NovaDine's DaaS Delivery Engine automatically selects the best delivery provider based on an algorithm that provides the customer the lowest delivery fee at the promised delivery time. We ensure that the delivery provider is fully integrated with our online ordering system software as well as your POS.
By selecting the most cost-efficient delivery provider, DaaS enables you to minimize front of house labor costs, while maximizing the frequency of orders, driving dollars to your bottom lines.
Menu and pricing update automatically and in real-time.
No need to build and maintain a delivery operation—outsourcing this burden keeps your kitchen focused and eliminates the need for delivery drivers and insurance liabilities.
DaaS is a money-saving option for restaurants as it foregoes 3rd party marketplace fees, and NovaDine provides it to their clients with no additional transaction fees per order.