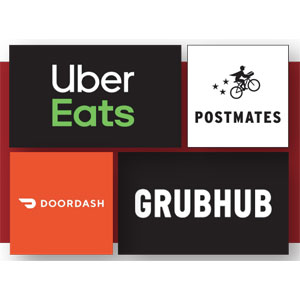 The customer has spoken.
Online food ordering and delivery is big business.
NovaDine is the online food-delivery marketplace expert supplying your chain with the best delivery interface in the industry. We help brands solve problems and accelerate business growth using an online food ordering platform that's quick, efficient, and easy to navigate. The National Restaurant Association reports that 34% of consumers opt for delivery more frequently when technology makes it accessible to do so.
We are the only digital ordering provider with full menu, order, and POS integration to these third-party delivery giants:
Grubhub
Postmates
DoorDash
UberEats
What does this mean for your restaurant chain?
Third-party delivery orders are downloaded automatically and seamlessly into your POS system
Delivery orders no longer need to be manually-keyed in or monitored
Menus and pricing are kept up-to-date and in-sync in real time across the chain, each time the POS system is updated
The demand for your orders by listing your stores and locations on these third-party sites will increase exponentially
Digital technology is reshaping the restaurant industry. Are you ready? With more than 100+ million orders—and counting—processed through NovaDine, we can handle your multi-location restaurants and delivery marketplace needs. Contact us today!