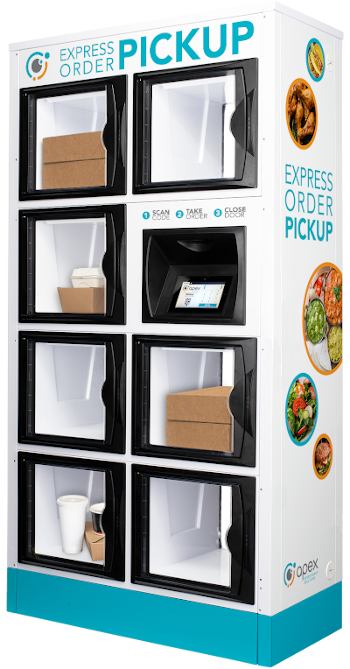 NovaDine now offers a new locker feature for online orders
Restaurants have an additional option for quick and contactless service, convenient pickup, and increased efficiency: Apex Order Pickup Solutions.  This double-sided food locker allows operators to load food at one end and alert the customer to pick up at the other end; the first commercialized, self-serve, automated pick-up station for food.  NovaDine has now developed a system which integrates its technology with the Apex order pickup solution resulting in a brand agnostic process that works seamlessly with any NovaDine integrated POS.
NovaDine's Technology facilitates a safe and seamless online ordering experience
 Apex's Flow-Thru Locker Solution eliminates the need for customers to wait in line to pick up their online order while the NovaDine technology provides communication between the restaurant and the customer.
Here is how it works:
A customer places an order on the NovaDine site and the order is passed to the POS.
At the restaurant, a staff QR code will print out of the kitchen printer. When the food is ready, the staff member scans their code at the Flow-Thru locker system, which lights up the compartment in which to place the food.
Once the food is placed in the locker, NovaDine will send a notification to the customer that their food is ready, along with a QR code for secure pickup.
Upon arrival, customers can bypass the line and scan or input their code at the locker keypad. The compartment that is holding their food will light up and open so the guest can retrieve their meal.
The two-sided lockers load from the rear, ensuring workflows are simple and efficient while providing a well-defined pick-up area for the customers.  This easy, quick, and convenient process takes just seconds, and ensures a contactless experience.
NovaDine takes the process one step further by sending a survey to the customer to gain feedback about their experience.  Apex can also track this activity in real-time via their cloud-based platform and generate automatic reports for their management staff.  Per an Apex survey of customers using the company's lockers, more than 95 percent said they would use them again.