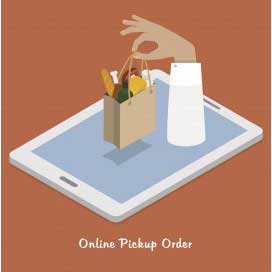 Curbside Pickup via online ordering has become a necessary and increasingly popular choice for restaurants. NovaDine makes the process fast, easy and convenient for you and your customers.
NEW Contactless Curbside Pickup
Customers are automatically assigned available pickup slots for their orders, and the restaurant is notified when the customer arrives to pick up their food order, along with the slot to drop the order in. The slots can be any designated and labeled areas on shelves or tables, and different slots and slot labels can be configured in NovaDine to match a particular store's setup. This feature provides the functionality of a cubby/locker system, without the associated expense, is available for restaurants to use immediately, and is POS integrated.
Curbside Pickup with Customer Identification
Vehicle Make/Model/Color OR Parking Space Number
Customer places order on any device; mobile phone, native app or desktop computer
Customer arrives at location and based on restaurants settings, selects curbside check-in and enters information (parking slot number, make/model/color)
The NovaDine system crafts a unique customer identification alert, then notifies the POS by either printing a ticket, displaying a message on the kitchen monitor or by using both methods.
Food is then brought to the customer's vehicle.
This convenient check-in opportunity streamlines the process so that the customer does not have to call the restaurant upon arrival.