Check out these easy kid-friendly road trip snacks that our client Braum's recently shared on their site. We love how quick and easy these recipes are!
Kid-Friendly Road Trip Snacks from Braum's Fresh Market
Spring Break is here and summer is not too far off either! Although we always recommend making a Braum's pit stop on your road trip, if you are going where there are no Braum's, we have some easy, kid-friendly recipes you can make to take with you on your journey!
These snacks are a breeze to whip together and will please even the pickiest eaters in your family. Better yet? You can stop by and get all your snack supplies at Braum's Fresh Market.
Before Your Trip – Snack Planning
A little planning goes a long way on a road trip and the same goes for snacks. In the days leading up to your trip, locate a large snack bag or cooler that can keep food cool and dry (We offer one in our Fresh Market). Select a bag that has side pockets, plenty of storage, and will fit comfortably on a seat or the floor of your car.
To keep organized, use plastic food storage containers and label them for each child (or parent) they're intended for. Snacks that are for sharing can go in larger containers or can be placed in Ziploc bags for portioning.
Pack the snack bag in a convenient spot in your car. You don't want to have unpack your trunk every time your kids get hungry. Be sure to keep wet wipes, paper towels, and hand sanitizer in the bag for mealtime.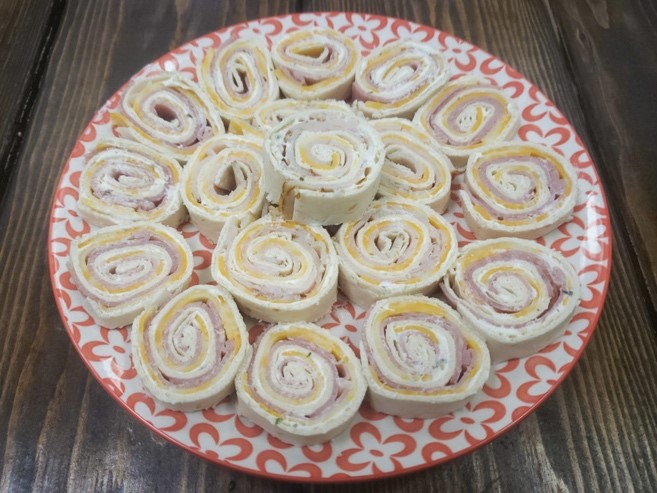 Tortilla Sandwich Wheels
When kids get hungry, the "Are we there yet?!" alarm starts sounding. Satisfy their grumbling tummies with protein-packed tortilla sandwich pinwheels. These customizable and fun alternatives to sandwiches are easy to pack and eat in the car. Try a sweet peanut butter and jelly version or a savory ham and cheese!
Ingredients
Ham and Cheese Wheels
1 ten-inch flour tortilla
2 to 4 Colby Jack cheese slices
3 deli ham or turkey slices
Mustard (optional)
Mayonnaise (optional)
Braum's French Onion Dip (optional)
Directions
Lay one tortilla down on a plate or cutting board. Spread a thin layer of mustard, mayo, or Braum's French Onion Dip on the tortilla, if desired.
Place two to four slices of cheese on tortilla. Place ham or turkey slices on top of cheese.
Roll the tortilla tightly from one end to the other.
With a sharp knife, slice the rolled tortilla into one-and-a-half-inch pinwheel slices.
Place pinwheels into a plastic container and pack into a cooler or snack bag with ice packs.

Crunchy Car Trail Mix
What is it about road trips that make crunchy snacks so appealing? Lucky for you, we have a trail mix that's a great snack for kids and the adults behind the wheel. Caution – this mix is hard to put down.
Ingredients
1 cup Goldfish® crackers
1 cup of Bakery On Main – Walnut Raisin Apple Granola
2 cups popped popcorn
½ cup dried mixed berries
Directions
Combine Goldfish®, granola, popcorn, and dried berries in a large mixing bowl. Once combined, place into individual, sandwich-sized Ziploc bags or twist-lock plastic containers. Seal tight for freshness.

Greek Yogurt Peanut Butter Apple Dip
This apple dip will satisfy a road trip sweet tooth without any help from gas station candy. If you slice the apples before packing them for your trip, sprinkle them with cinnamon or lemon juice to keep freshness and add flavor.
Ingredients
1 container Braum's Plain Greek Yogurt (24 oz.)
4 tablespoons chunky or smooth peanut butter
2 to 3 tablespoons honey
Directions
In a mixing bowl, combine Greek yogurt, peanut butter, and honey (use three tablespoons for a sweeter dip).
Once combined, place dip into individual mini, round food containers and pack into cooler or snack bag with an ice pack.
Serve with sliced apples, grapes, or graham crackers.
Other Tasty Takings
If you need more snacks for a long, cross-country haul, the Fresh Market has easy grab-and-go options. Grab and pack fresh veggies like carrots and celery. Pick up family-sized bags of chips if you need more crunch. String cheese, hummus, and pita chips are great healthy options, while Braum's cookies and muffins are perfect sweet treats.
Road Trip Snacks at the Fresh Market
Lunchables®
Dry cereal – Frosted Flakes, Fruit Loops. Frosted Mini Wheats, Raisin Bran, Rice Krispies, and Special K.
Nature Valley Granola Bars®
Goldfish® crackers
Saltines & Sociables crackers
Laughing Cow® Babybel Cheese
Fresh fruit and veggies
Hummus
Pita chips
Peanuts and other nut mixes
Braum's cookies and muffins
On your way back into Braum's territory, stop in for a meal or ice cream treats, perfect for a family of road warriors!
Original article can be found here: https://www.braums.com/blog/kid-friendly-road-trip-snacks-from-braums-fresh-market/